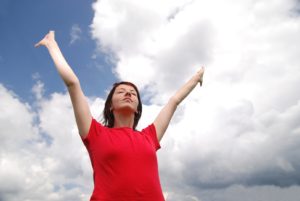 Have you ever felt, or maybe feel right now, that the situation you're in seems so hopeless that you can't ever see your life or circumstances changing EVER?  Please take heart and keep the Faith!    I remember speaking to a therapist many years ago trying to describe how I was feeling in my life at the time.   I so clearly remember telling him that I feel like I'm at the bottom of a well, looking up seeing light but have NO idea how to get out of it and into the light.   He looked at me with a bit of confusion.   It seemed to take him back a bit.   We talked through things some more and eventually I was able to make some huge decisions that would affect my path in my mid-life.   It turned out to be the way I was supposed to turn and now I can clearly say that I'm out of the "pit".
This decision led me to dive head first into my Christian walk over the last decade and just recently (within a couple of years) I have read in the bible in several areas about apostles describing God helping to get them out of the "pit" – a  literal description that I shared with my therapist so many years ago.   It hit me that was how I described my circumstance years and years ago and it's also in the Bible.  How timeless it is…
Psalm 40:2-3 NIV "He lifted me out of the pit of despair, out of the mud and the mire.  He set my feet on solid ground and steadied me as I walked along. He put a new song in my mouth, a hymn of praise to our God.  Many will see and fear the Lord and put their trust in Him."
This verse describes my last decade in 2 sentences.
I too have been there in what I felt was a pit of despair with no way out and am here to say that if you are there right now, read this verse, soak in it's Joy and Hope and believe its powerful words.  This is for EVERYone who will receive it.  God is on your side, he knows your situation, loves you and has a purpose for you, each and every one of you!   Don't give up.  Help, wisdom and clarity are on their way.   God is so much bigger than our circumstances, focus on him and peace will abound as you trust.
Remember all the things you've gotten through before and things turned out ok, even better than before the hardship happened.  That is how our God works.   He is the same yesterday, today and tomorrow.  Revelation in this is truly a blessing for those who receive it.  We are so desperate for consistency in this world and we can find it in Him and his Word.  He also restores and even double for those who believe!  What a good God we serve.  Isaiah 61:1-7
A change IS coming for the better friend…no matter where you are in life there will be ups and downs so we'll need to believe this truth many times over.   I'm still believing for some big things to manifest and believe my God will come though always, and he is never late.  Hang in, keep moving forward and hold tight my friends!
Keep the Faith, he is doing a new thing. He wants to give you a Future & a Hope so much more than you can think or imagine!
Be good to YOU!   Lori
Is 43:18-19 "Forget the former things, do not dwell on the past. See, I am doing a new thing. Now it springs up; do you not perceive it?  I am making a way in the desert, and streams in the wasteland." 
Eph 3:20 "Now to him who is able to do immeasurably more than we can think or imagine, according to the power that is within us" (the Holy Spirit). 
Jer 29:11 "For know the plans I have for you declares the Lord. Plans to prosper you and not harm  you, plans to give you a hope and a future."